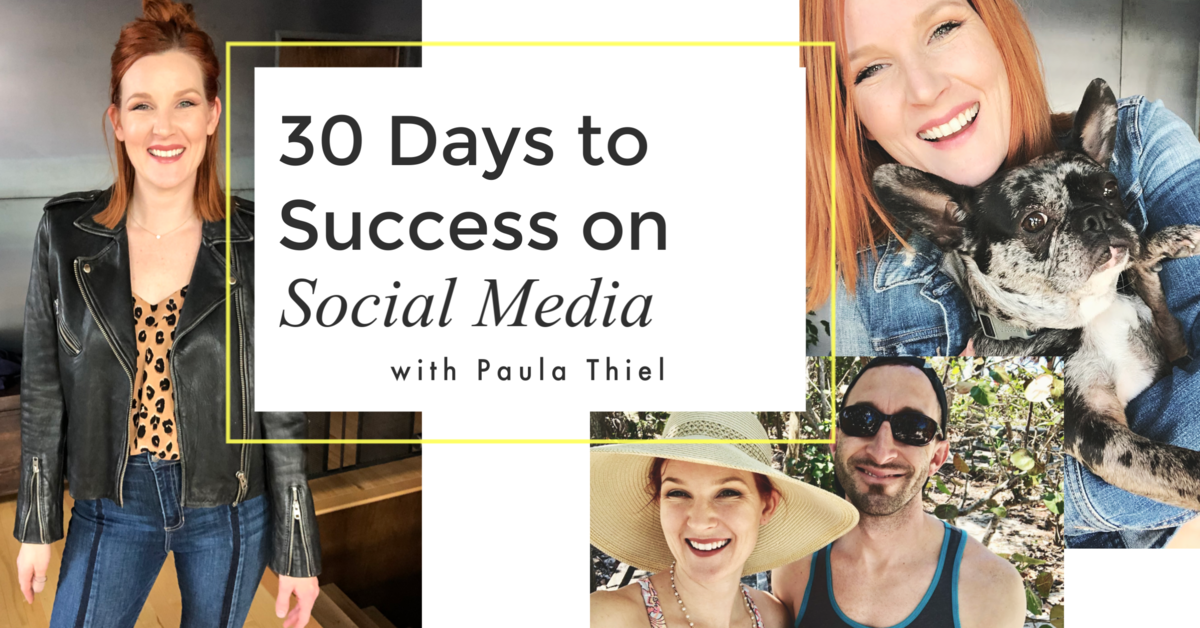 Poll. This is SUCH a great way to gather info about what people want next whether that is a product or what they'd like to see on your social channel. Let's use this to ask a question about your product this week. You can ask whatever you want to know the answer to. I use these to find out what people want…. For example: Do you use eye cream to A. Get rid of puffiness or B. Diminish wrinkles? Keeping it with only two choices helps people to not feel overwhelmed. If there are 3 or four choices they are like "nope, I don't want to think that hard." And don't answer. Here's the bonus to this… whatever people answer with, you know that's what you want to talk about on your product post later this week.



Have fun day. This is a day where you try something that just sort of pops into your head… those types of posts are some of my very very most engaging posts. They are a little bit of a risk 'cause they are wild cards… something you wouldn't normally talk about. I did a video of me roasting veggies and how I did that, and I NEVER talk about cooking really… I talk about fashion or style or my family… a lot of the same sorts of things, but throwing in a random here and there can add some fun and a cool thing happens…. People get to know a little more about you. It doesn't have to be about food either… do you have a pet or a funny story or a journal entry that you'd like to share?
Have fun with it!



#momproblems or #justgottalaugh
#momproblems
Is anything more relatable than a toddler losing their mind in the cereal aisle cause you want to buy cheerios instead of fruit loops? LOL. But really any story of a scenario like that with a pic of you and your kiddos…. One you haven't shared before… you can pull one from your personal page if you want, otherwise whatever pic from your phone. ONE SMALL AND ACTUALLY BIG TIP…. A pic of you with the kids will probably perform better than just one of the kids…. BUT again you can break this rule and see what works better for you. My page likes pics of me and the babies better. I'm suspicious that your page will be the same way.
OR
#justgottalaugh
If you are not a parent, you can post something inconvenient in life that you just have to laugh about… like a squeaky cart wheel at the grocery store… or silly pet behaviors… or getting stuck behind someone slow on the road… just make it relatable and light hearted.
EXTRA…. Product Post - Continue with the mom theme or just gotta laugh theme….
For example: Mom Life is just A Lot!! I know you're tired, but your eyes don't have to show it!
Then you have another smiling pic of you and one or both of your girls but be holding up your eye cream like it's your favorite thing about life!! Lol.
I need your help! Give a real scenario in your life for example if you have a dinner that you want to bring friends too but you're not really sure if a particular restaurant is good for a large party or smaller party or whatever the case may be that would be a great thing to get people's help on. People love giving their opinion and this is a great way to get an answer that you actually need plus giving people a chance to share.
EXTRA Product Post
YOU wanted something specific from you product, and got it. Example: I asked for eyes that look younger than I am…. even without makeup!
It would be so awesome to post a pic of you from when you were little and talk about a fun memory you have.
EXTRA Product Post
What did people ask for earlier this week in the poll? Whatever it was that they asked for, let them know when they can buy it and how.
Share the small things from your life…
It's the little things. Even the things that seem kind of less than awesome to you are very important to your audience because when you are walking through a boring or mundane part of your day, so are they. They go grocery shopping and scrub their toilets and take out the trash too. And they want to connect with a real human! I have done snap shots of my slippers or a pic of the temperature or me in a dumpster (super glamorous, I know!!). The important thing is that you show a part of yourself that you don't normally show. Maybe you are cooking or scrubbing dishes or stuck in traffic… talk about it! I know this seems irrelevant but it's such a real part of life that people can relate to and that is what resonates!
You should re-upload a promo video to Facebook and Instagram TV…. It will get into the feed again and more people can watch or re-watch the video. You already have that content so it's always great to make good use of what you've already got!! Don't put a lot of text with this… just like a small little line like "Why I love my job so much!"



ADD THESE TO Sun, Mon and Tues in addition to the posts above